PGC Scale Models
PO Box 224
HIGHFIELDS...Qld...4352
Australia....


Welcome to the latest update for PGC Scale Models.

September 2011

Exhibitions

Since our last news letter we have attended our local exhibition held at Toowoomba. This was an excellent weekend as usual and Coorparoo performed well and was well received by the modelers and public alike. Courtesy of Glenn at Black Diamond Models we had a new loco on the roster which drew plenty of comment. We also released the WHE wagon kit which is shown later in the newsletter.




As previously advised we will not be attending any more shows for the year.

Product Updates

The WHE has now been completed and is ready for sale. We are also going to provide the instruction sheets on the web with some additional construction photos that may help when building the kits. They will be added to the online instruction sheet over the coming months.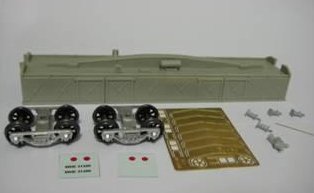 - One piece Erethane
- Etched Brass details inclding tarp supports / brake wheels / ladders
- 12mm Bogies Assembled
- Decals
- RRP $44.50 (Kit) $70 (R-T-R)
- Only requires paint and couplers to finish

Steam Locomotives

We are proud to say that the production line is progressing well with the current orders. We have recently completed some of the new and improved PB15 locomotives. I would like to acknowledge the work of a couple of close friends that have given us some wonderful support in getting all of the new components completed for the new and improved version of the PB. It has come a long way from when we first released these over 8 years ago.

The photos below show the modifications that have been made, as we now do not have the tender drive. This has allowed a new tender to be produced which has a removeable tank to allow the fitting of a DCC Chip should you wish to go that way. There has been a new cab / chimneys /domes / tender / steps / smokebox door to mention a few.




Surplus RTR Wagons Available
We currently have the following RTR wagons available.
1 x QLX $85.00each
2 x CMN Frozen Freight $75.00
1 x CMIS $60.00 each
1 x QGA Bulk Grain Hoppers $80.00 each
2 x HO Open Wagons $60.00 each
3 x FGM Open Wagons $50.00 each

I hope this has given you a quick update of what PGC has been up to however if there is any queries that you may have please let me know.

Happy Modelling
Phil & Tina Hadley
Phil, Tina and Zoe Hadley
P.G.C Scale Models
Highfields Queensland

Web Address:- www.pgcscalemodels.com.au


Previous Newsletter - March 2011
PGC Scale Models
PO Box 224
HIGHFIELDS...Qld...4352
Australia....